---
This is a customized figure of the Covenant Elite Special Operations unit customized by ZiZi. For more information, see Sangheili Special Operations .
General Information
Edit
This figure began as a normal dark-blue elite figure with several changes:

Added bicep swivel for the arms
Re-sculpted helmet, re-sculpted shoulder and chest. from epoxy putty and sanded to shape.
A repainted energy sword done in clear red.

This custom is primed and painted using modelling acrylics (GSI Creos, Tamiya, and Citadel) and clear-coated with Pledge Wipe and Shine acrylic floor sealant.
---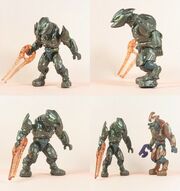 Ad blocker interference detected!
Wikia is a free-to-use site that makes money from advertising. We have a modified experience for viewers using ad blockers

Wikia is not accessible if you've made further modifications. Remove the custom ad blocker rule(s) and the page will load as expected.