---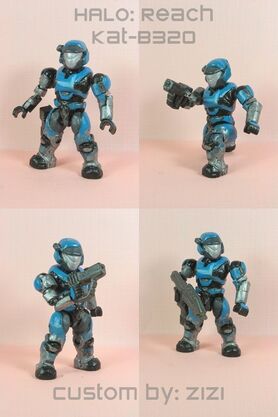 This custom figure of Noble Team member Kat-B320 was made by the customizer ZiZi.
For more info on this character see: Catherine-B320 .
General Info
Edit
This piece originally started life as a UNSC Flame Marine, with most of the armor parts altered using sculpted Epoxy Putty. some of the modifications are as follows:
the entire helmet has been sculpted over using putty and sanded down to shape, while the torso has a re-sculpted front chest and collar.
both arms received a bicep swivel for added articulation. and shoulders trimmed down and given smaller spaulders (shoulder armor) with putty.
the left forearm has been shaved down for a slimmer profile.
the right robotic arm was scratch-built using 3mm hollow plastic tubing, twisty wire (small metal wire, usually used to secure other toys in their packaging), and bits of plasticard cut and glued on for detail. it is mounted on a screw-swivel at the base of the shoulder and uses the base figure's right hand--though glued down and lacking any horizontal articulation.
the thigh and hips were slightly widened and curved with putty, and the right thigh has a hole to mount the magnum.
the magnum came from a STiKFAS figure's pistol with plasticard parts and a screw mount on it's left side to help mount it to the thigh when not held.
this custom is primed and painted using modelling acrylics (GSI Creos, Tamiya, and Citadel) and clear-coated with Pledge Wipe and Shine acrylic floor sealant.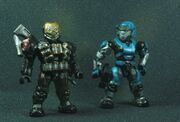 ---
END OF ARTICLE
---